:::
<!#--所有資料+cate tab --> <!#--detail-->
TAITRA Pre-show Online Sourcing Meetings – Gateway to Grab Your Global Business Opportunity
Online Date: 2020/04/22
Modify Date: 2020/09/26
Due to the Coronavirus disease (COVID-19) outbreak, the Taiwan External Trade Development Council (TAITRA) has postponed numerous international B2B trade shows in the first half of this year. In order to fulfil the demands of the buyers, TAITRA will organize Pre-show Online Sourcing Meetings for AMPA 3-in-1 (Taipei AMPA, Autotronics Taipei, and Motorcycle Taiwan) on April 16, 2020. TAITRA will host this meeting to assist the companies to combat travel restrictions and create more business opportunities in the global market during the difficult times of the epidemic.
TAITRA has invited nearly 20 buyers from 8 countries, including Australia, China, South Korea, Bulgaria, South Africa, Poland, New Zealand, Japan and other important markets for the first AMPA 3-in-1 online procurement meeting. Leading participating buyers include Piaggio Asia, the leading Italian locomotive brand and the world's fourth largest motorcycle manufacturer; Euro 7, a top five auto parts importer from Bulgaria; and Sincars, the first Bulgarian supercar manufacturer. The representative of Sincars even mentioned that since China is now facing the situation of raw material supply chain disruption and unstable supply, this would be the perfect time to search for more suitable suppliers in Taiwan. Only two weeks of registration, there are over 50 meetings scheduled, which shows recognized and endorsed by the exhibitors.
Participating corporations find these meetings very fruitful, and overall are happy with their results. Among these, the interviewee of Miin Luen Manufacture Co., Ltd. said that, "Due to the rapid spread of the global pandemic, there are only few opportunities for overseas sales expansion. TAITRA's online sourcing meetings assisted in connecting with the potential buyers. We expect more business opportunities with them." The interviewee of Team Young Technology Co., Ltd. said, "This is the first time we participated in the TAITRA Pre-show Online Sourcing Meetings. We are happy that our new patented products are acknowledged by the large international buyers. Besides, the sales account manager of Acewell International Co. Ltd. expressed their appreciation for TAITRA's efforts to actively invite them to join the meetings."
As the global pandemic isn't showing signs of slowing down, 63 TAITRA overseas offices will continue inviting global buyers to participate in the Pre-show Online Sourcing Meetings. Also, TAITRA will continually host the meetings for Taipei Cycle Show, Taipei Int'l Sporting Goods Show (TaiSPO), Taipei Intelligent Machinery & Manufacturing Technology Show (iMTduo), COMPUTEX TAIPEI, and others. These events are expected to attract over 90 buyers, 120 exhibitors with more than 300 meetings scheduled. All the information about the Pre-show Online Sourcing Meeting will be announced on the official websites. Interested buyers and exhibitors can visit each show's respective website for more information.
More information about the shows: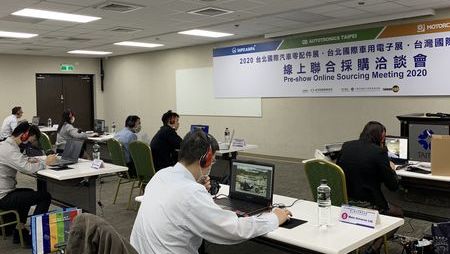 The Pre-show Online Sourcing Meeting at AMPA 3-1 show, with exhibitors and buyers communicating via video conference.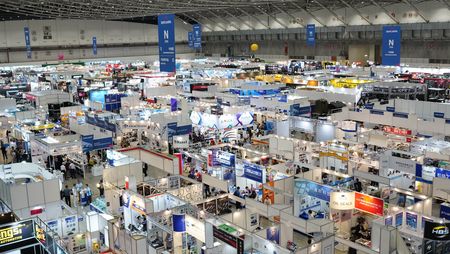 2020 AMPA 3-in-1 will be held on October 21 to 24 at the Taipei Nangang Exhibition Center, Hall 2 (TaiNEX 2). The show presents Taiwan's highly competitive auto parts and accessories, and adds 4 elements of Autonomous, Connected, Electric, Shared (A.C.E.S). The Picture is 2019 AMPA show.