:::
Product Info.
Online Date: 2019/03/08
Modify Date: 2019/03/08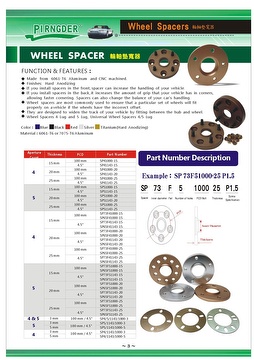 spacer
Taipei Nangang Exhibition Center, Hall 2 (TaiNEX 2) P0125a
Product Model:
Description
Description
 Made from 6061-T6 Aluminum and CNC machined.
 Finishes: Hard Anodizing
 If you install spacers in the front, spacer can increase the handling of your vehicle.
 If you install spacers in the back, it increases the amount of grip that your vehicle has in corners, allowing faster cornering. Spacers can also change the balance of your car's handling.
 Wheel spacers are most commonly used to ensure that a particular set of wheels will fit properly on a vehicle if the wheels have the incorrect offset.
 They are designed to widen the track of your vehicle by fitting between the hub and wheel.