:::
Product Info.
Online Date: 2019/03/06
Modify Date: 2019/03/06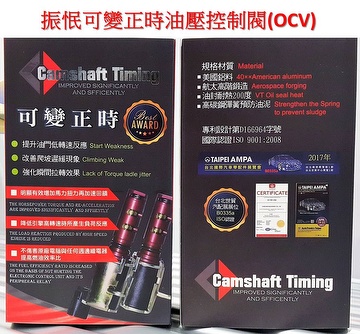 VVT-i Camshaft Variable control valve
Taipei Nangang Exhibition Center, Hall 2 (TaiNEX 2) Q0207a
Product Model:凌志/豐田/本田/三菱/現代/福特/馬自達/日產
Description
Description
VVTI intensifier
Variable control valve
Collaborated with: Chen Meng Co. Ltd. Field assisted by: SS Motortech
VVTi maintains engine output efficiency and oil consumptions. It can instantly adjust valve duration, so the engine achieves the best toque output during rotations. Through coaxial rotors on camshaft roller rotating backward and forward, valve timing and duration are changed to help complete combustion. At the same time, it reduces air pollution and engine shifts smoothly for different velocity. The key for VVTi lies in powerful and faster operation.
CHEN MIN MACHINERY CO., Ladas made such variable control valves to fit cars with VVTi. To verify the function, we employ Mustang MD150 for the following proof
Intensify structure patented roller bearing axis/ agile VVTi operation
Lift solenoid valve operation
CHEN MIN MACHINERY CO., LTD teams develop roller bearing with low friction coefficient (Patent No. D166964) that replaces original car bearing to reduce friction and produces agile valve operation. Speeding up shows wonderful toque while medium-high speed enjoys smooth shift.
Upgrade overall material
The original solenoid vale in the car is made of cast iron out of mold, but it is fragile for high temperature and wearing. Thermal expansion makes its oil intake shrink and difficult to fill the oil. Also, heat failure and power loss occur. In contrast, our valve material uses aerospace aluminum alloys in addition to axis redesign. We use 5-axis CNC Machine(X/Y/Z straight axis and B/Cangle axis) to cut the valve tightly. A senior engineer commented that such forged product weighs lesser than cast one, but it's five times stronger than cast one. It has better cooling, and resists heat, pressure and wearing. Under optical microscope, no pore on the surface so no oil will be stuck. Moreover, coil thrust increases from 650g to 1330g (twice the original one). VT oil seal resists heat up to 200。C, high-carbon steel axial spring is also used. Overall, solenoid valve main parts and kits are all upgraded.
Replacing in time/ Improve the efficiency
Many vehicles of older age (five years of age) or higher mileage run (> 80,000 kilograms) drive of high temperature for a long time tend to result in carbon and fuel-efficient filled inside the engine and stuck the movement of electromagnetic valve due to low quality gas oil or imprecise maintenance so that the engine is running at idle speed and shake. Such problems can be troubleshot via renewal of electromagnetic valve_ however, if you buy our "VVTI intensifier variable control valve" you can get more effects on the vehicle performance.
Perform in reality/Figures talk
To test our variable valve timing performance, we use the renowned Mustang MD150 Dynamometer to test 2016Toyota Altis owning dual VVT-i system. Its intake and exhaust valves are equipped with variable timing, so we test both.
First, the original car engine is tested 3 times and error keeps within 1% and 108.1hp/14.1kgm counts. T-shaped wrench is used to place our valve rendering 113.4hp/14.5kg. In sum, hp and toque curve are rising (5.3hp/0.4kgm) which indicates that our valve really boosts VVT-i power.


Specification
Specification
凌志/豐田/本田/三菱/現代/福特/馬自達/日產 全車系各款皆有與原廠料號相同的強化商品
Launched Year
Launched Year
2015
Certifications
Certifications
Specialized in Forging / Quality Assurance
1.Technology Assurance: CHEN MIN MACHINERY CO. is specialized in engine cylinders for 41 years experiences. Having duly listed the roster of qualified suppliers of Aerospace Industrial Development Corporation (Xiang-Wu-Zih No. 0990008945) and passed ISO Certification, we are the professional OEM factory to forge aluminum coil designated by many famous brand home and abroad. Various best electromagnetic valve products in Taiwan are produced by our company.
2.Design Assurance: Patent roller bearing design certificate (Patent No. D166964)
3.Material Guarantee: valve body Aerospace Aluminum Material (KK-16-06256X), VT Oil Seal (KV-16-05910X), high-carbon steel spring (KK-16-06256X)
4.Performance Guarantee: dynamo meter test certification