:::
Product Info.
Online Date: 2019/05/09
Modify Date: 2019/05/09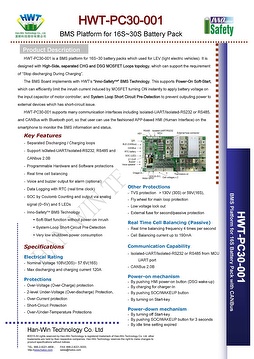 BMS Platform for 16S_30S Battery Pack
Taipei Nangang Exhibition Center, Hall 2 (TaiNEX 2) P0313a
Product Model:HWT-PC30-001
Description
Description
HWT-PC30-001 is a BMS platform for 16S_30 battery packs which used for LEV (light electric vehicles). It is designed with High-Side, separated CHG and DSG MOSFET Loops topology, which can support the requirement of "Stop discharging During Charging".
The BMS Board implements with HWT's "Inno-Safety" BMS Technology. This supports Power-On Soft-Start, which can efficiently limit the inrush current induced by MOSFET turning ON instantly to apply battery voltage on the input capacitor of motor controller, and System Loop Short Circuit Pre-Detection to prevent outputing power to external devices which has short-circuit issue.
HWT-PC30-001 supports many communication interfaces including Isolated-UART/Isolated-RS232 or RS485, and CANBus with Bluetooth port, so that user can use the fashioned APP-based HMI (Human Interface) on the smartphone to monitor the BMS information and status.