:::
Product Info.
Online Date: 2018/11/29
Modify Date: 2018/11/29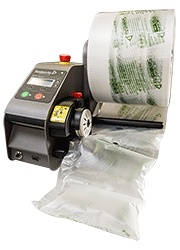 Fill-Air Rocket inflatable void fill system
Taipei Nangang Exhibition Center, Hall 2 (TaiNEX 2) P0113a
Product Model:Rocket
Description
Description
1. Unrivaled Speed:
The Fill-Air Rocket system produces 100 feet of inflatable void fill cushions per minute in a variety of sizes
2. Simplified Operation:
Two new features ensure further foolproof operation: active film web tracking, which automatically improves the film feed and bag length detection, which stops the film in an ideal position every time. These guarantee consistent, optimally filled bags.
3. Saves Valuable Space:
The Fill-Air Rocket system has a compact footprint (less than 1.5 sq. ft.)
4.Recyclable and Reuseable:
The superior sealing technology and material strength of Fill-Air Packaging makes it highly reuseable.