:::
Product Info.
Online Date: 2018/09/04
Modify Date: 2019/12/02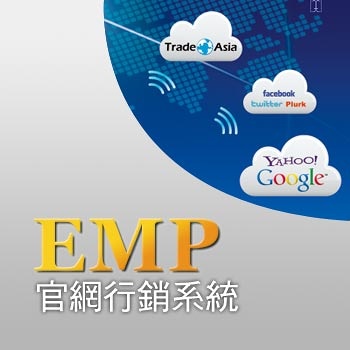 EMP Website Marketing System
Taipei Nangang Exhibition Center, Hall 2 (TaiNEX 2) P0232
Product Model:
Description
Description
The EMP Website Marketing System is an integrated cloud service system, which integrates enterprise website system and website marketing system, provides active and passive marketing mechanism, helps enterprises to easily build and manage websites, conduct search engines, trade websites, and social network marketing. To reach the realm of the far-reaching global market, lowest marketing cost, and highest marketing efficiency.

※Enterprise Website System - Meet the present and apply the future※

The enterprise website system adopts Web Builder smart website master v6.0, adopts the cloud service mode, is the most advanced enterprise website system, and conforms to the development of RWD responsive webpage. A set of official website is suitable for PC, mobile phone, and tablet. A variety of layout designs, ready to use. The overall design is in line with Google's most important optimization rules, and the mobile device is prioritized by the complaint. It also takes into account the B2B and B2C, customer relationship management, multi-language, meets the current needs of enterprises and is suitable for future development. It is an important core foundation for enterprises to establish independent network marketing.

※ Website Marketing System - Establishing a Corporate Diversified Marketing Model※

- Proactive Marketing: PM2 Precision Marketing Module Produces e-newsletters and e-cards related to your company's website information through the e-newsletter EDM, proactively reaching out to visitors and accurate buyers through the media database In addition to being able to establish and maintain good customer relationships, it is also the best weapon for you to develop new customers and maintain your customers. Practice active direct marketing actions. The benefits are accurate marketing of the database, establishment and long-term maintenance of buyer relationships, the company's advantageous assets, and exclusive potential business development results.

- Passive Marketing: DOs Dynamic Optimization Solutions uses the company's own website and website, not the Internet company platform (not placed under the network company website), DOs is a technology-leading website optimization system that can bring your company The content of the website is all compatible with search engines (Google...) and trading websites (TradeAsia-English, Simplified Chinese). The more products, the more content, the greater the chance of being clicked, creating the long tail effect of unlimited keywords. Achieve natural pre-discharge results. Website administrators can easily manage the corporate website and can add new product content by themselves, that is, automatically enter the trade website (TradeAsia-English) and search engine (Google...), so as to achieve the effect of self-management of website marketing.
Launched Year
Launched Year
2005
Other Products Offered by This Company