:::
Product Info.
Online Date: 2016/11/07
Modify Date: 2019/12/23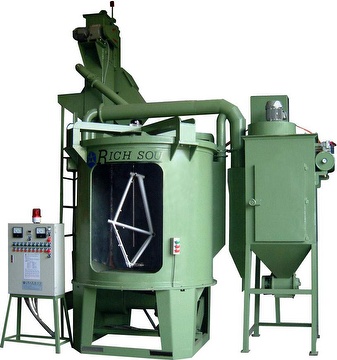 Hanger type shot blasting machine
Taipei Nangang Exhibition Center, Hall 2 (TaiNEX 2) P0119a
Product Model:TSA-206
Description
Description
1. Automatic separating the parts and blasting abrasive, reduce the blasting time.
2. Equipped with air flushing dust collector, which automatically separate the dust. Correspond with the environment protection test and avoiding pollution problem.
3. Diagonal type blasting method. The operator can work and check the parts directly, which can avoid the parts missing.
4. Simulating the blasting angel and intersect blasting by CAE computer in order to achieve the surface blasting action more efficiently.
5. Suitable for bicycle and auto mobile parts, blasting efficiency increase and reduce the producing cost.
Certifications
Certifications
ISO 9001 ,CE
Awards
Awards
Taiwan Best Product
Other Products Offered by This Company